"MINDFULNESS MEANS PAYING ATTENTION IN A PARTICULAR WAY: ON PURPOSE IN THE PRESENT MOMENT AND NON-JUDGEMENTALLY "
Kabet-Zinn (1996)
The gold standard Mindfulness Based Stress Reduction and Mindfulness Bases Cognitive Therapy (MBSR/MBCT) is the 8 week intensive training in mindfulness approaches.You will learn how to be more fully aware and to be present in each moment of life. Your own mindfulness begins as you start to recognise your tendency to live life on automatic pilot. Through mindfulness you will learn how to become aware of this. It is by becoming aware that things begin to change. The good news is that this makes life more enjoyable, interesting, vivid and fulfilling. However, on the other hand, this also means facing what is present, even when it's unpleasant or difficult. Fortunately, this happens through incremental steps, each building on the previous weeks' work. In practice, you will find that turning to face and acknowledge difficulty is, in the long run, the most effective way to reduce unhappiness, stress and pain.
See my Resources page for some interesting books on Mindfulness in general, and MBSR/MBCT specifically.
Why not try out this 3min. meditation ed by Prof Mark Williams, below-
MBSR was designed for people suffering from chronic stress and pain, they were told "...you're just going to have to learn to live with this"
We say:-"You can't stop the ocean, but you can learn to surf"
Numerous scientific studies report the long- term effectiveness of MBSR/CT on such areas as stress, depression, anxiety, chronic pain & fatigue, ME; cancer, fibromyalgia, sleep disturbances, arthritis and bowel conditions. An ever increasing number of peer reviewed scientific studies are available here –

Because of MBSR effectiveness, elements of Cognitive Behaviour Therapy were incorporated into the basic MBSR programme to form (MBCT) for depression. This is included in the National Institute for Clinical Excellence (NICE) guidelines. The programmes I teach employs both MBSR and MBCT.
If you're willing to work with me, and on yourself, I can support and guide you.
'As long as you're breathing there's more right than wrong with you!'
WHAT WILL MINDFULNESS DO FOR YOU?
As you practice the meditations and participate in group sessions, you are learning a rapid method of bringing mindfulness into your daily life. This brings with it more ease and contentment too. You will stop feeling that life is running away with you; or that you are driven by anxiety, stress, pain or illness.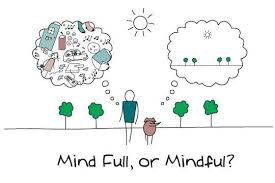 You will become aware that more choices are available to you, of which you were previously unaware. You will even feel happier, no matter what is happening around you. You learn how it is possible to respond differently to life's challenges. Learning Mindfulness Meditation through incremental stages over the 8 week programme shows how to respond in each moment to whatever happens. Once you have developed a toolbox of mindfulness skills you're ready for all eventualities.
The Mindfulness practices of MBSR are rooted in ancient traditions of meditation, to teach simple ways of relating to thoughts, sensations and emotions by simple observation. But 'simple' isn't the same as 'easy.' Mindfulness is a powerful skill and just as with any other skill, like riding a bike, learning to read; it requires practice...and this will happen during your guided and supported Mindfulness training.
Why should you do this Mindfulness course?
Because chronic stress & illness makes daily activities an unending struggle.
Because suffering has stripped down normal life to the bare essentials.
Because juggling work, family, doctor & therapists appointments is exhausting.
Because you now know there's a way out.
This course can help you to:-
Take better care of yourself.
Increase your ability to relax.
Cope more effectively with stress, whatever the cause.
Face difficulties with more clarity of the available choices.
Increase your ability to manage physical and psychological discomfort, distress and pain.
With practice, you will experience a reduction of preoccupations and worries, to actually live and appreciate each moment of your life; day by day, moment by moment and breath by breath, by breath.